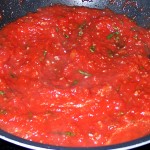 Since I make pizza dough all the time, I try to have pizza sauce on hand as well.  Pizza sauce is somewhat different from pasta sauce, because it's important for your pizza sauce to be smooth enough to spread.  I've mastered my own quick sauce that can be made with items I always have on hand.  Even so, it took me a week of sauceless pizza before I got around to making it this week.  Some housewives are just lazy!
Ingredients:
1 tablespoon olive oil
6 garlic cloves, minced
4 cups (or so) canned crushed tomatoes
fresh basil leaves, chopped (about ¼ cup)
Preparation:
Heat the oil in a 12-inch skillet over medium-high heat
Add garlic and saute until fragrant and golden (3-5 minutes)
Turn the temperature down to medium or medium-low and pour in your crushed tomatoes.  If you're using 15-ounce cans or a 28-ounce can, go ahead and add a bit of water to the can and slosh it around to get the last bits of tomato out.  You'll be cooking the sauce down to whatever thickness you prefer, so it doesn't really matter how much water you add.
Once your tomatoes heat through, add the chopped basil.  Cook, just under a simmer, until the sauce has reached the thickness you desire.
Notes:
You can use more or less of the garlic and basil; just find a mix your family likes
If I want to make pasta sauce instead of pizza sauce, I soften diced onions before adding the garlic and I add some chunkier bits (diced tomatoes and mushrooms, most often) to add some texture to the sauce.
I usually buy the 10# can of crushed tomatoes at Costco.  They cost about $3, and that's enough for multiple recipes.  To avoid letting the sauce mold before it get used, I pour it into quart or gallon sized freezer bags and freeze whatever I'm not using that day.  When it's time to make the next batch of sauce, I don't bother to defrost the sauce.  I add the sauce in at the normal point, and cover with a lid that fits the skillet well.  The trapped heat under the lid and the condensed steam that drops on top of the frozen sauce thaw it quickly, but you'll need to add an extra 5-10 minutes to your overall cooking plan if you're going with this route.